Chair's Address
Mr Paul Harcombe, Chief Surveyor, Land & Property Information (LPI) of NSW
This is my second time as ICSM Chair and I look forward to the 2013/2014 year with great expectation. The ICSM Members met in May and we had a number of changes of guards and achievements announced. Firstly, Bill Hirst was unanimously elected as Deputy Chair, succeeding Don Grant who I'd personally like to thank for his enormous efforts over the last three years in setting strategic direction and re-shaping the governance and structure of ICSM and its working groups. Bill brings with him a wealth of experience in the surveying and mapping domain and the Committee and I look forward to working with him.
I take this opportunity say goodbye to Dr Lesley Arnold (WA), Commodore Rod Nairn (Hydrographer), Peter Kentish (SA) and Peter Murphy (TAS). Their efforts in contributing to the ICSM agenda have been invaluable and I thank them for the time they have put towards our strategic outcomes. I also welcome our new members, Commodore Brett Brace (Hydrographer), Paul Duncan (WA), Michael Burdett (SA) and Michael Giudici (TAS) to the ICSM. I look forward to their involvement and ideas as we progress forward in this time of change and national awareness on the benefits of wider collaboration.
In this ICSM biannual newsletter you will find information on some of our key initiatives and activities in the positioning arena and other developments linking to our broader ICSM e-strategy. The e strategy is a significant component of our strategic plan in the coming year; supporting delivery of our standards for surveying, mapping/charting and national datasets in line with the semantic web.
I note that ICSM has now drafted a new Communications Plan, this is to ensure we provide our technical information to stakeholders in an appropriate form and in a time frame that is useful to them. A parallel is to communicate and develop relationships with key stakeholders in government, industry and the user community – seeking to support and advise on the importance of authoritative information and work closely with our parent body – ANZLIC, in the implementation of key national spatial policy initiatives.
ICSM Committees and Working Groups
A new working group has been created, the Spatial Information Delivery & Access (SIDA) Working Group which is chaired by Darren Mottolini of Landgate, WA.
The Permanent Committee of Geographic Information Management has reverted to its original name of Permanent Committee of Topographic Information.
Murray-Darling Basin Elevation Data Acquisition and Stewardship Project
Geoscience Australia (GA) and the Murray Darling Basin Authority (MDBA) signed a Project Agreement in December 2012 for the acquisition of elevation data over areas of the northern Murray Darling Basin. The collaboration recognises GA's elevation data stewardship role in the Commonwealth and will also assist to build the next generation National Elevation Data Framework (NEDF) Portal for improved discovery and high–speed web access of all Commonwealth owned and licenced elevation data.
The acquisition project consists of eight areas of interest, totalling approximately 63,500sq km. The elevation data acquired as part of this project will be used for floodplain modelling, particularly to determine where small changes in the landscape may greatly affect the movement of environmental flows or floodwaters. The ICSM specification was used as the basis for this acquisition, however as the project requires more accurate deliverables than previous LiDAR acquisition projects, some aspects have been revised to ensure what we want. The stricter requirements stated for this project were established in close consultation with the National Geospatial Reference Systems section at GA, NSW Land and Property Information (LPI) and the Queensland Department of Natural Resources and Mines (DNRM).
The data created from this project will be licenced under CC BY, therefore allowing not only the participating agencies and jurisdictions access to the data, but also its inclusion into a new storage and distribution mechanism (a replacement for the current NEDF Portal) which is also part of this project
Australia-wide CORS Certification Campaign
Starting on the 23 June 2013, ICSM's Permanent Committee on Geodesy (PCG) coordinated a week long Australian-wide certification campaign of Global Navigation Satellite System (GNSS) Continuously Operating Reference Station (CORS) positions in accordance with Regulation 13 of the National Measurement Regulations 1999 and the National Measurement Act 1960.
The primary objective of this campaign was to improve the legally traceability and uncertainty of GNSS CORS positions across Australia. The effort attracted participation of Commonwealth, State, Territory and private sector GNSS CORS operators who have collectively contributed data from over 400 stations across Australia. The campaign takes advantage of the recent update of Geoscience Australia's scope of accreditation as a Verifying Authority of Position, which has improved the least uncertainties that can be reported, from 32 and 54 mm in the horizontal and vertical components respectively to 7 and 15 mm.
Collation of this extensive dataset is now underway and analysis will commence in September at Geoscience Australia. It's hoped that this ICSM effort will encourage new and exciting applications in positioning research, industrial automation and intelligent transport by further exploiting Australia's growing CORS infrastructure.
Welcome to new ICSM Members
Australian Hydrographic Service: Commodore Brett Brace RAN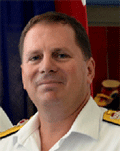 Commodore Brace joined the Royal Australian Navy in 1984. His seagoing experience spans 16 years and encompasses hydrographic surveying operations around Australia and Papua New Guinea. In 2010 and 2011, he undertook specialist employment with the Australian Maritime Safety Authority (AMSA) as the Principal Advisor Under Keel Clearance and Pilotage, focusing on Torres Strait.
In January 2013 Commodore Brace was appointed Hydrographer of Australia and Director General, Navy Hydrography and Meteorology and Oceanography Branch. He is Chairman of the Australasian Hydrographic Surveyors Certification Panel, the Permanent Committee on Tides and Mean Sea Level, and Ports Australia Hydrographic Surveyors Working Group.
South Australia: Michael Burdett

Michael spent thirty years working as a surveying consultant in the Northern Territory and South Australia. Here he was managing Land Development, Mining and Infrastructure projects. It was in the cadastral surveying area that Michael found his specialisation, leading to his appointment as Surveyor-General for SA in 2012. It is in the areas of the cadastre and the property based data themes that Michael hopes to contribute within ICSM.
Tasmania: Michael Giudici

Michael assumes the role of Surveyor General of Tasmania following a career spanning 26 years in mostly private sector organisations. Apart from a 7 year period working for a GBE (Forestry Tasmania), Michael's experience has been gained in both small and large private surveying companies. Most recently, Michael was a Director of Lester Franks, a national surveying and spatial services company where he held the additional role of Manager Hobart Division, undertaking cadastral and engineering projects large and small. Michael was inaugural chair of the Tasmanian Spatial information Council (TASSIC) in 2008, inaugural chair of the SSSI Tas Region, a former SSSI Director and President, current President of the Institute of Surveyors Tasmania (IST) and current member of the Tasmanian Land Surveyors Accreditation Board (TLSAB).
Western Australia: Paul Duncan

Paul is the Director of the Location Knowledge Services Branch. Paul has worked at Landgate for more 12 years and taken on various roles including running Landgate's award winning Innovation and Research Program.
Paul is currently responsible for the collection and maintenance of the State's geographic data holdings, government collaboration initiatives and the delivery of various services; topographic mapping; geographic naming; property street addressing; native title mapping; geospatial product development; aerial photography and satellite remote sensing.
Next ICSM meeting
The next meeting will be held in Adelaide, South Australia on 29 & 30 October 2013.
The PCC workshop and meeting will be a full day, held on 28 October in Adelaide.