This resource highlights the significance of place names and the part they play in everyday life.  Starring Ernie Dingo, it tells the story of how places get their names and explains PCPN's role in looking after them.

PCPN developed this innovative Internet-based educational program to support the "What's in a name?" DVD.  The activities and lessons are designed for primary school students and promote the significance of place names in the community.

These principles cover the choice, form and application of place names in Australia and provide each naming authority with a basis for developing their own set of guidelines for naming places.  It also now includes Principles for the Use of Aboriginal and Torres Strait Islander Place Names and Dual Naming Depiction Principles.

This glossary is a list of generic terms or designators commonly used in Australia as part of a place name.  The list provides helpful definitions and allocates appropriate designator codes for recording in registers and gazetteers.

In his paper, Professor John R. Parker explores the role geographic place names will play, as a fundamental data set within a Regional Spatial Data Infrastructure (RSDI).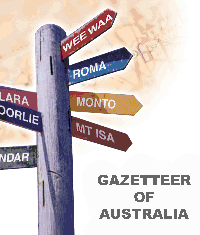 The Gazetteer of Australia is a database of Australia's place names.  It is the result of a cooperative effort between the Commonwealth, State and Territory Governments and is compiled annually by Geoscience Australia using data provided by PCPN members.
It can be viewed interactively at Geoscience Australia's 'Place Names Search' 
http://www.ga.gov.au/placename
PCPN also has involvement with: